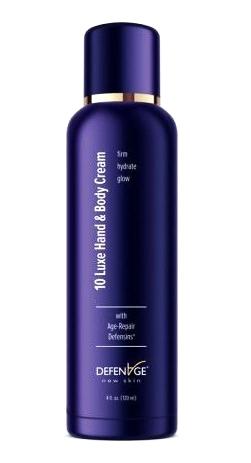 Description
Size: 4 fl. oz.
This cream contains Defensin-molecules known to activate "young and healthy " cells, making fresh skin. It delivers similar results as retinol anti-aging body lotions without increased dryness, irritation or inflammation.
Visibly enhances firmness and cosmetic elasticity.

Improves the appearance of crepey skin.

Refines the surface skin texture.

Provides both instant and long-lasting hydration including in dry climates. Boosts natural moisture retention. Skin feels firmer and plumper immediately.

Relieves the feelings of dryness and itching.

Balances the skin's barrier function.

Promotes the skin's natural hyaluronic acid, laminin, and elastin.

Improves visible skin thickness.

Reverses the signs of skin aging, premature aging and sun damage.

Effective on elbows and knees; visibly revives their smooth texture and revitalizes softness.

For use as an anti-aging hand lotion, it smooths and softens the skin on the hands.

Keeps skin glowing all over the body.

Beneficial in combination with body contouring procedures to improve visible skin firmness and overall skin quality.

Recommended in pairing with skin rejuvenation treatments (i.e. peels, IPL, Microneedling, and lasers) to amply results in the reduction of the look of pigmentation, sun damage, crepeness, and mild skin laxity.